Co-bylined with Jim Waterson, BuzzFeed UK Political Editor
Former chancellor George Osborne has been appointed editor of the Evening Standard, despite limited experience in journalism. His most notable achievements in the media world were his unsuccessful applications for graduate jobs at The Times and The Economist, followed by a short stint on the Daily Telegraph'sformer diary column before he went to work for the Conservatives.
But while studying at the University of Oxford in the early 1990s he was much more active in journalism, editing a student magazine called Isis – which at that the time did not share its name with a terrorist organisation. Copies of Osborne's editions of the magazine have vanished from Oxford libraries, but BuzzFeed News has located copies nevertheless.
Here's what they tell us about Osborne the journalist.
He likes to surround himself with a well-known team.

ISIS
Osborne's co-editors at Isis included Chris Coleridge, a fellow Bullingdon Club member who was a descendant of Samuel Taylor Coleridge and brother of former Conde Nast managing director Nicholas Coleridge.
The features editors were Harry Mount (editor of The Oldie and cousin to David Cameron), Jo Johnson (universities minister and brother of Boris Johnson), and Jess Cartner-Morley (now the fashion editor of The Guardian).
In short, it's one of the most establishment mastheads ever seen in journalism.
He's not averse to a gimmick in a bid to try and shock.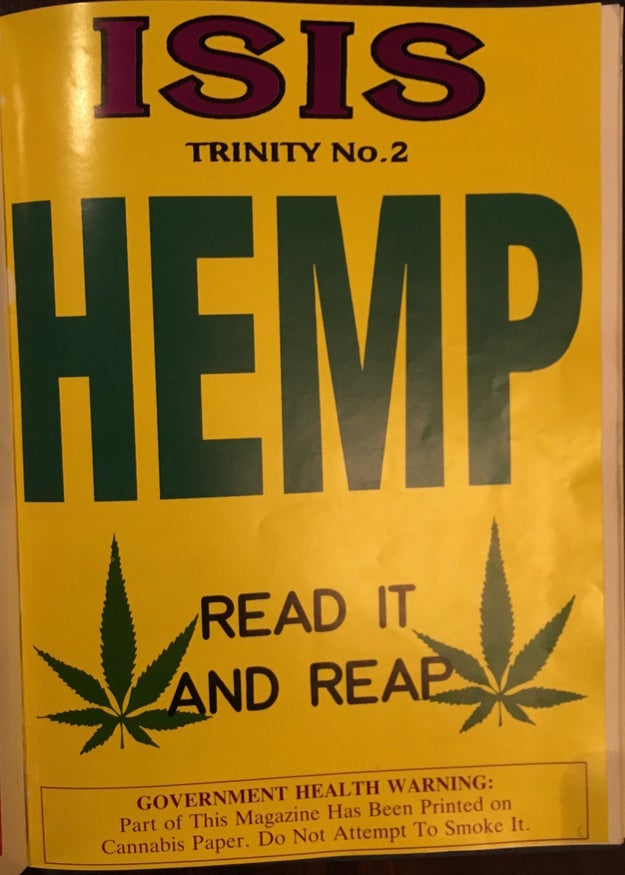 ISIS
Osborne printed one edition partly on hemp paper in order to make a point about cannabis, complete with a warning not to smoke it. It's unclear whether he has any plans to repeat this experiment at the Evening Standard.
He was an environmentalist, of sort.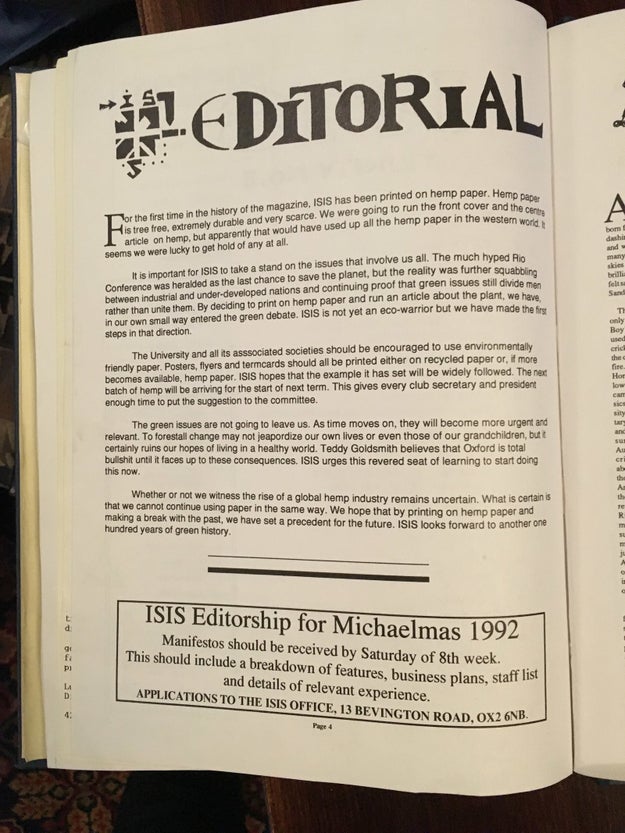 Isis
This editorial is a rant about environmental damage, which warns that "green issues are not going to leave us", adding that "as time moves on they will become more urgent and relevant".
"Whether or not we witness the rise of a global hemp industry remains uncertain. What is certain is that we cannot continue using paper in the same way," it states.
Keeping the establishment connections going, the editorial also references Teddy Goldsmith, who just happens to be the uncle of Zac Goldsmith – who would go on to be a Tory MP and a failed candidate for mayor of London.
The contents of his first edition give a clue to the sort of pieces he likes to commission.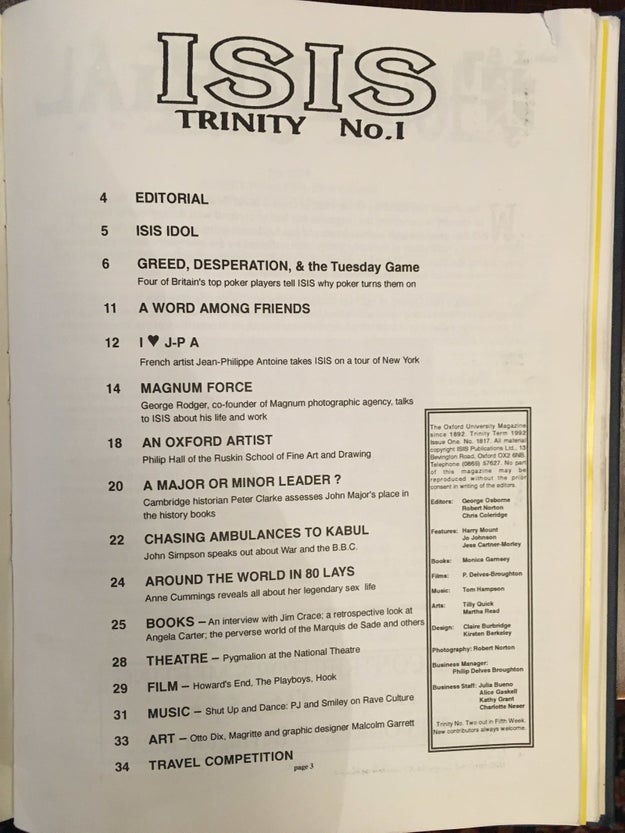 Isis
That includes BBC journalist John Simpson, sex, and the Marquis de Sade.
And there were similar themes in his second edition.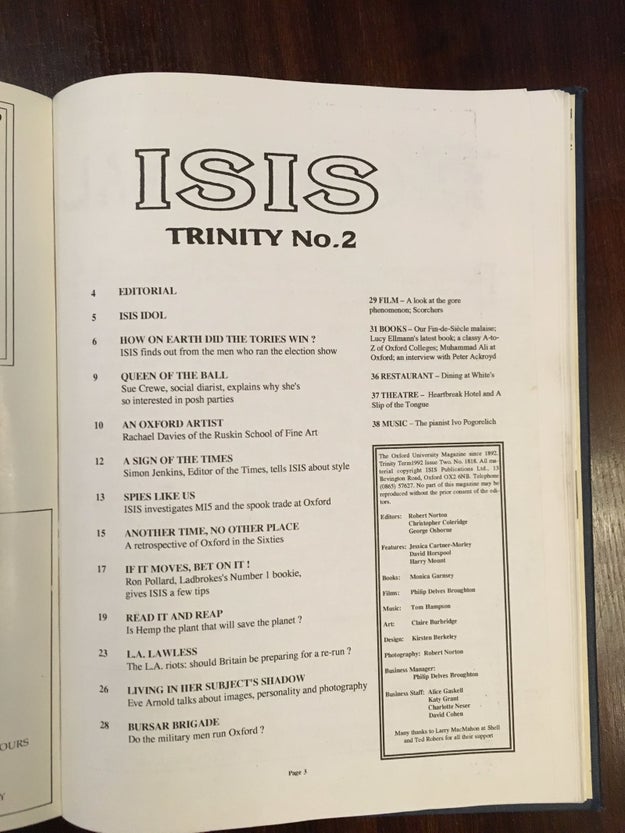 Isis
Topics include "How on earth did the Tories win", why are people interested in posh parties, and lots of gambling.

Isis
One of the few pieces in the magazine under Osborne's own by-line was a profile of the British security services, in which the future Evening Standard editor meets with a "source" in MI5 who details their recruiting process.
He goes into some detail about how easy it is to get hired by the intelligence agencies
Isis
But also raises some concerns about civil liberties that come with mass surveillance.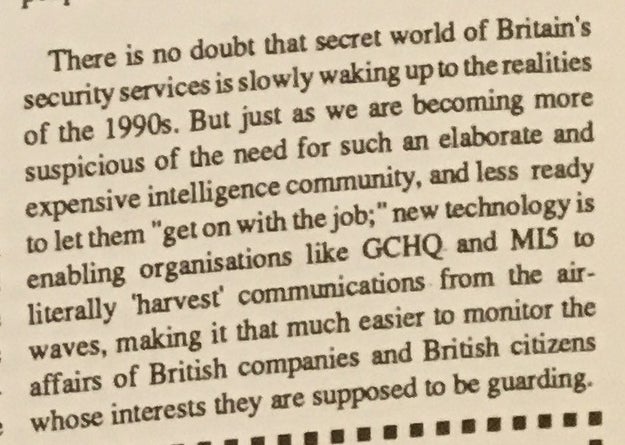 Isis
Imagine if the intelligence agencies could "literally harvest communications from the airwaves".
Osborne also liked to write about gambling.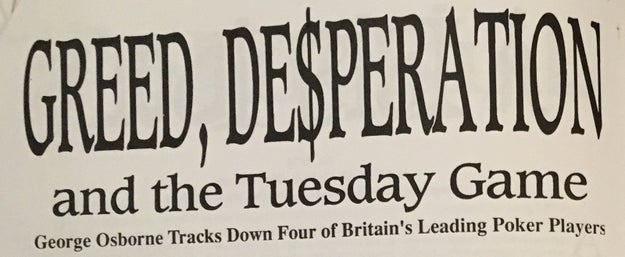 Isis
"Gambling is an intrinsically anarchic activity," the future chancellor wrote, making the case for the joy of poker. "By risking everything from money to marriage on the spin of a wheel or the turn of a card the gambler is implicitly giving the two fingers to the pillars of our bourgeois society – security and stability."
He went on to justify the article, explaining that gambling is fun "because in the real world you have to pay for your Bollinger".
Osborne will take up his role at the Evening Standard in early May.